CORNSIL® Carbon Sulphur Determination Apparatus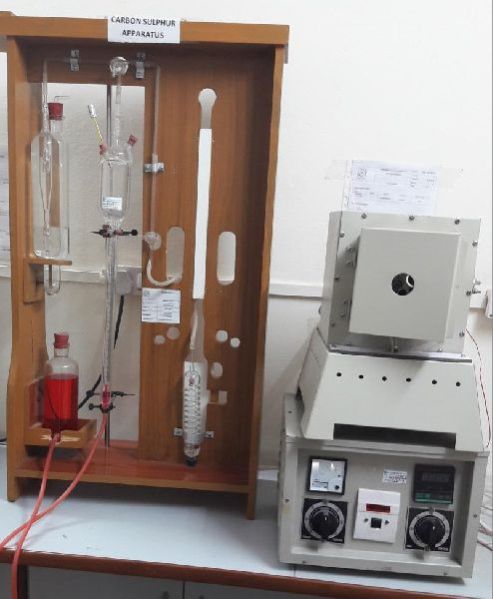 Business Type
Manufacturer, Exporter, Supplier
Type
Carbon Sulphur Apparatus
Application
Laboratory
Weight
10-20kg
Click to view more
Preferred Buyer From
| | |
| --- | --- |
| Location | India ( Pondicherry), Azerbaijan, Bangladesh, Indonesia, Kuwait, Russian Federation, Saudi Arabia, Singapore, Thailand, United States, Zambia |
Since 1995, we have been functioning as Laboratory Carbon & Sulphur Determination Apparatus, CORNSIL® Manufacturer, Exporter and Supplier from Pondicherry, India. Featuring wide,
CORNSIL C & S Apparatus comprises of:
Tubular combustion furnace unit,
Control panel with transformer and
Glass parts for determination of percentage of carbon & sulphur.
a) The combustion furnace, tubular in shape is heated by 3Nos. silicon carbide heating elements suitable for max. Temperature 1300 Deg. C.  The furnace is designed to accommodate combustion tube dimensions of 17 mm x 22 mm x 600 mm. the furnace is provided with ceramic fibre blanket insulation.
b) Control panel with transformer: This is a compact and attractive unit made of  cold rolled mild sheet and finished with powder metal coating accommodating the following:
A step down transformer with 6 steps coarse and 6 step fine control on the secondary side.
Digital Ammeter range 0 -20 Amps.
Digital Volt meter range 0 – 300Volts.
Digital Temperature Indicator Indication Lamps.
6 ways rotary switches 2 Nos. for coarse and final control.
c) The following Glass Parts Borosilicate Glass is mounted on an attractive teakwood stand with laminated board as the base.
Sulphur Cup
Sulphur burette, 4ml or 25ml
Coil condenser
One litre reservoir
'L' bend stopcock
Three way stopcock
Carbon burette with a range of 4.5% or 1.05% or 0.5% (to be specified)
Levelling bottle
Gas washing bottle
Absorption vessel
Dust trap
Eye piece.
Standard accessories are supplied along with every complete equipment.
Kanthal scoop for handling the combustion boat
1No
Instruction manual with pressure temperature correction chart
1 set
Combustion tubes
2 Nos
Clamps for heating elements
4 Nos
Rubber tube
10 mtrs
Combustion Boats
50 Nos
*Available in single burette model or double burette model. `
Looking for "
CORNSIL® Carbon Sulphur Determination Apparatus

" ?
pcspcs